Fundraising and Community Events
Bring a Book, Buy a Book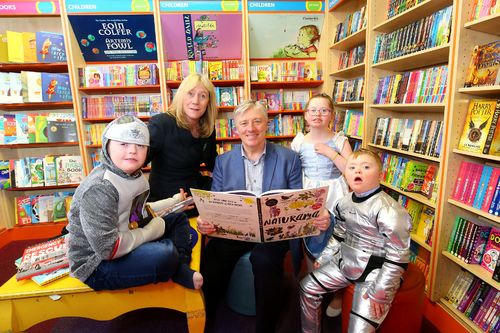 St. Michael's House Bring a Book, Buy a Book 2020
The Campaign- 1st - 8th March 2020
Bring a Book, Buy a Book is St. Michael's House annual national fundraising campaign. 
 We are asking people of participating companies, schools & clubs to bring second-hand books from their homes and buy donated books from their colleagues at a cost of just €2.
Reading Set up
The campaign has since enjoyed success with over 200 locations taking part each year. Event hosts have reported their event as boosting staff morale and team building.
Complete a participation form today and email to fundraising@smh.ie or click here to input your details online.
The event can work;
A Corporate CSR project- boosting staff morale
School Literacy Strategy Activity- Go Techno!
Community club coffee morning and book swap
This can be set up in a staff common area over a morning/day/evening and work on a trust basis or be manned by a staff member.
Each location receives a starter pack consisting of: Promotional Posters, Bookmarks, Stickers & Donation Boxes.
 90,000 books were exchanged in 2019 raising over €30,000 for services for intellectual disability.
Thank you to our  reading advocate supporters;  
NALA- National Adult Literacy Agency
Irish Rail Pop up, Pop-In March Book Shops 2020
Thank you  Irish Rail for long term support of the Connelly Station Dublin and Heuston Station Dublin book shops.
2020 dates and times will be posted soon.
 Donate €4, Text  SMH to 50300
SMH recieve a minimum of €3.60.
Service provider LIKECHARITY 0766805278
Go TechNO! Schools fundraising 50/50 for your own school 2020
We are continuing to ask individuals to go TECHNO and Close a Screen and Open a Book.
Schools can also go TechNO!. We have new packs available for students to take on the task and raise funds for their school and St. Michael's House. This is a 50/50 joint fundraising initiative with raising funds for schools and also intellectual disabilities.
Book Funds 2020
Funds raised through the Bring a Book, Buy a Book campaign aim to provide Summer Supports for children with disabilities. Summer supports support summer service hours during the school holidays.
Our Corporate and School Book Campaign Testimonials video