Corporate Volunteer Programme
Corporate Volunteer Programme
St. Michael's House - Time to Volunteer
Due to the current Coronavirus/COVID-19 crisis and national social distancing guidelines, St. Michael's House will not be accepting corporate volunteer requests at this time. The Corporate Volunteer Programme provides much needed support to our Units and important service to our services. However, the safety of our service users, staff and volunteers is our priority. We hope to resume the programme as soon as possible. For now, we must come together by staying apart. Together we can #Flattenthecurve.
Our team will be back in contact with our 2020 registered corporate volunteers as soon as the programme begins again.
You can donate directly to our services by clicking here.

Corporate Volunteer Programme takes place from April 2020 to October 2020. Click here for application form.
The programme welcomes employees from corporate companies to volunteer to any one of our 170 Units for intellectual disability based in the Greater Dublin area. The aim of the programme is for staff to complete a worthwhile project and to become more knowledgeable about how people with Intellectual Disability can positively contribute to society.
To date, St. Michael's House have welcomed an average of 3,000 staff from some of Ireland's leading companies including: - Accenture, Bank of Ireland, Boots Pharmacy, KPMG, Northern Trust, Deloitte, Ulster Bank, Vodafone, Microsoft, AVIVA amongst others.
What happens on a typical day?
All necessary equipment is provided, including gloves, tools etc. Health & Safety forms and public liability insurance are referenced. St. Michael's House tee-shirts are provided. Lunch and transport of volunteers are at a cost to the visiting corporate. Hours worked are in line with normal office hours (9am to 4pm). A detailed plan of activity is agreed in advance.
Volunteers work alongside service users within the Unit where possible. We wish for staff to understand the work of St. Michael's House in their community. This initiative is sponsored by KPMG and supported by BITC.
Make a request your corporate organisation for volunteer locations. Download the form and email back.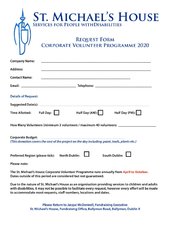 More Information
Contact: Jacqui McDonnell, Fundraising Executive
Email: fundraising@smh.ie
Tel: (01) 8840345