Corporate Volunteer Programme
Corporate Volunteer Champion Programme
St. Michael's House Champions - Corporate Volunteering
Aligning with St Michael's House
Strengthening Disabilities Project
, our Corporate Volunteer Champion Programme welcomes employees from corporate companies to volunteer to any one of our 190 day centres and residential homes for disability based in the Greater Dublin area. The aim of the programme is for staff to complete a worthwhile project and to become more knowledgeable about how people with a disability can positively contribute to society.
To date, St. Michael's House have welcomed an average of 9,000 staff from some of Ireland's leading companies including: KPMG, Accenture, Bank of Ireland, Boots Pharmacy, Google, Amazon, Northern Trust, Deloitte, Ulster Bank, Vodafone, Microsoft, AVIVA amongst others.
What happens on a typical day?
All necessary equipment is provided, including gloves, tools etc...
Health & Safety forms and public liability insurance are referenced.
St. Michael's House t-shirts are provided.
Lunch and transport of volunteers are at a cost to the visiting corporate.
Hours worked are in line with normal office hours (9am to 4pm).
A pre-planning meeting with our dedicated Volunteer Co-Ordinator and a detailed plan for your volunteer day is prepared and distributed prior to your visit.
Volunteers work alongside service users within the centre where possible. We wish for staff to understand the work of St. Michael's House in their community. This initiative is sponsored by KPMG and supported by BITC.
To get involved complete a request form available here and return to corporatevolunteers@smh.ie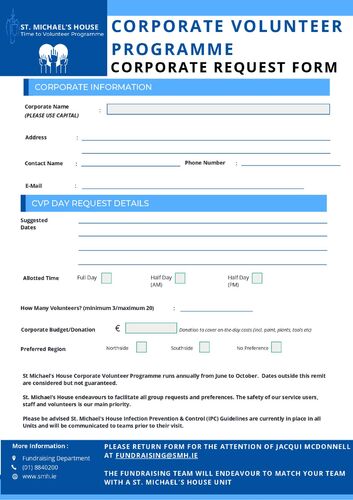 St. Michael's House endeavours to facilitate all group requests and preferences. The safety of our service users, staff and volunteers is our main priority.
Please be advised St. Michael's House Infection Prevention & Control (IPC) Guidelines are in place in all our centres and will be communicated to teams prior to their visit.