About St. Michael's House
About St. Michael's House
St. Michael's House provides a comprehensive range of services and supports to men, women, and children with intellectual disabilities and their families in 170 locations in the greater Dublin Area. It supports 1,900 people and this has an impact on thousands of family members. St. Michael's House is a company funded by the Health Service Executive (HSE) and the Department of Education and Skills.
St. Michael's House supports include;
Residential supports and Independent living
Clinical supports
Day supports
Schools
Respite supports and
Vocational training services.
St. Michael's House is committed to delivering services and supports based on the needs, wishes and choices of people with an intellectual disability, based in that communities and connected to natural support networks.
Our values are to:
be person centred – to offer a range of activities to support individuals who use our service
be professional – this means being skilled, competent and proficient
be honest – this means following principles and being dependable in all that we do
be ethical – this means that we operate with integrity
have high standards of governance – to offer effective systems of management and
be innovative – to provide new thinking and deliver creative solutions.
Our Vision
A world where the potential of each individual with an intellectual disability is achieved.
Our Mission
Support individuals with intellectual disabilities to achieve their potential and live as independently as possible in ordinary places in the community connected to natural support networks.
St. Michael's House Strategic Plan 2017-2021
Building Community, Supporting Independence
St. Michael's House Strategic Plan 2017-2021 is based on research, environmental analysis and an extensive consultation process with:
service users
their families
employees
funders, and
regulators such as Health Information and Quality Authority ( HIQA )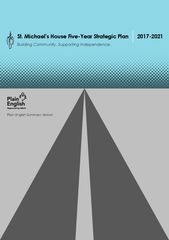 St. Michael's House Strategic Plan 2017-2021 in Plain EnglishIt has also been shaped by discussion and debate with Policy and Planning Committee members, and Board feedback on previous drafts. St. Michael's House has six high-level goals which are outlined in our Plan.
Download Plain English St. Michael's House Strategic Plan 2017-2021
Download Easy to Read St. Michael's House Strategic Plan 2017-2021