Leisure Centre and Swimming Pool
The leisure centre is currently closed and we would like to thank you for your patience during this time. We plan on re-opening the leisure centre in July with a reduced summer timetable. For enquiries, please call the leisure centre on 01-8483361.

We apologise for any inconvenience caused.

The facilities are great and fit different people's needs. Before the centre was opened, there was nowhere for me to go. I am so glad it was built
Check out our Online Activity Hub Timetable - To help you stay active at home, we now have a range of activities each day on our online timetable, including classes with the leisure centre team.
Click to find:
Belcamp Swimming Pool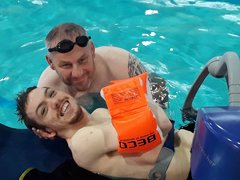 SMH Leisure CentreAll areas in the Leisure Centre and Swimming Pool are fully wheelchair accessible. Special features include:
A 19 metre fully accessible swimming pool with;
access ramps
overhead tracking system with direct transfer from the changing rooms
pool side hoists and steps
wheelchair accessible changing rooms
accessible foot spa
sensory water features
The Leisure Centre team work alongside our P.E. Departments and the clinic teams to facilitate programmes and activities both in the Leisure Centre and in community settings
Belcamp Swimming Pool Opening Times
The pool is open to St. Michael's House schools, day and residential services.
**Please note we are currently operating on a referral basis**
The Swimming Pool is not open to the public.
| | | |
| --- | --- | --- |
| Monday | 9.00am | 5.00pm |
| Tuesday | 9.00am | 5.00pm |
| Wednesday | 9.00am | 5.00pm |
| Thursday | 9.00am | 5.00pm |
| Friday | Closed | Closed |
| Weekends | Varied | Events |
How we made a Splash!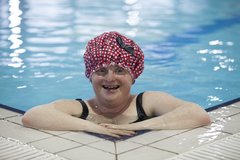 The dream of developing Ireland's first fully accessible Leisure Centre and Swimming Pool originated as result of a survey of service users, families and staff aiming to identify a landmark project that would make a real difference in the lives of people with an intellectual disability.
The survey identified a lack of opportunities for service users to engage in recreational, social and therapeutic activities and highlighted the significant difficulties many were experiencing in accessing public swimming pools, leisure centres and cinemas.
The Leisure Centre is a hub of social activity for service users of all ages and their families. Equipped with state-of-the-art technology that meets the needs of all service users, it features a fully accessible swimming pool, foot spa, home cinema, coffee dock and outdoor sporting area.
Our Poolside News
St. Michael's House Swimming pool and Leisure centre was the winner of the CARA National Inclusion Award 2017 and shortlisted in the sports catagory in 2018! You can read more on our Awards here.
The National Inclusion Awards recognise organisations and people who enhance participation opportunities for people with disabilities in Sport, Physical Activity and Physical Education. CARA is a national organisation which aims to enhance sport and physical activity opportunities for people with disabilities
Over Service users are involved in both national initiatives such as CARA's fit4all week and Operation Transformation and other in-house and community initiatives such as Cycling Safety Schools, Enjoy Tennis programmes and Mental Health Awareness week.
St. Michael's House sign up to the Sport Inclusion Disability Charter. What is the Charter?
On visiting, please support our Pool Rules
A Leisure Centre Information Form has to be completed before a service user first uses the pool. These forms are available at the Leisure Centre.
Swim hats must be worn.
All pool users must shower before using the pool.
No Outdoor Footwear to be worn in the pool area.
Swim nappies should be worn by anyone who requires them (details of suppliers available from the Centre).
Pool hoists are only to be used by trained staff.
All families should make themselves familiar with the Normal Operating Procedures and the Emergency Action Plan.
Clubs and Events
Want to try a new activity or become more active? Contact the Leisure Centre and sign up.
For nationwide external activities and events, please see the following links: