Activity Hub
The Activity Hub has been designed by our staff to support you at home during this challenging time. It includes a timetable of fun activities and a range of information to help keep your mind and body healthy and happy.
*** 6 Week Activity & Social Online Club***
Congratulations to everyone who completed our 6 week social club !!
Download your printable certificate of completion below.
**QUIZ NIGHT**
6pm Wednesday 21st April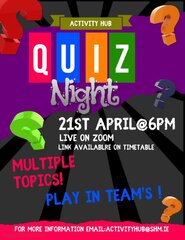 ** Week 13 Cooking Class Healthy Smoothie Recipe **
Timetable
19th April -9th May
Monday 19th April

STAY ACTIVE & MIND YOURSELF

**11AM LIVE CLASS **

Join Sinead for a Mind- Body Balance Class

Take some time to move your body and relax your mind

Meeting ID: 988 6258 9295

HAVE FUN

**12PM LIVE CLASS**

Join Jenny for an Arts & Crafts Class

✔️ Click here for Materials List

Meeting ID: 999 9366 4847

MIND YOURSELF

Anytime 4pm - 9pm

Tuesday 20th April

11am LIVE Social Active Club Weekly Catch Up

This weekly class is to bring everyone together to chat about the plan for the week and to celebrate achievements

Meeting ID: 948 4020 2035

MIND YOURSELF

Anytime 4PM-9PM

*6:30PM LIVE Bowling Group*

Join the Leisure Centre Team to find out more about our new Bowling group and how to get involved.

Zoom Meeting Link:

Meeting ID:951 6602 7635

✔️Click Here for more information on how to play

For more info: email theactivityhub@smh.ie

Wednesday 21st April

STAY ACTIVE

**LIVE Dance class with Tarik 11am**

Join Tarik for a Dance Class

Meeting ID: 947 5821 7823

✔️Click here for instructions on how to use Zoom

or

Listen to Tea Dance Tunes

The National Concert Hall invite people living with dementia, their carers and families to enjoy an online concert of favourite songs and music

Free weekly session but pre-booking required directly with NCH

HAVE FUN

**12pm LIVE Cooking Class**

A weekly cooking class with a new Recipe each week !

Join the Live Class

✔️Click Here for Shopping List

Zoom Meeting ID: 925 4341 3728

HAVE FUN

**6PM QUIZ NIGHT**

Join the Leisure Centre Team for A Big Quiz Night !

Join Zoom Meeting

Meeting ID: 927 5433 3049

or

MIND YOURSELF

Anytime 4pm - 9pm

Thursday 22nd April

STAY ACTIVE

** LIVE Zumba Class 10:30AM**

Join our new zumba class with Karla as we dance and get fit together !!

Join zoom meeting

Meeting ID: 953 4711 4223

STAY ACTIVE

** LIVE Boxercise class 1pm **

Join Prem for an exercise class you can do seated or standing

Join Zoom Meeting

Zoom Meeting ID: 916 9867 6283

HAVE FUN

**LIVE 3pm LIVE Bingo with Dyfed**

You will need to download Zoom to your device

Join Zoom Meeting

Meeting ID: 993 1311 2548

or

MIND YOURSELF

Anytime 4pm - 9pm

Friday 23rd April

STAY ACTIVE

**LIVE Aerobics class with Prem 11am**

Join the leisure centre staff for an exercise class you can do seated or standing

Join Zoom Meeting

Zoom Meeting ID: 988 6264 0926

or

The PPALS (People with intellectual disability as Physical Activity Leaders) leading out an accessible exercise class.

HAVE FUN

**SMH Friday Football Fan Club 12:00PM ⚽**

All Team Supporters Welcome

Join Zoom Meeting

Meeting ID: 949 5871 2746

STAY ACTIVE

**LIVE 2PM Walkability Session**

Interested in getting involved in assessing your local community for accessibility?

Join Zoom Meeting

Meeting ID: 949 5180 8379

or

HAVE FUN

Creative Corner Write a poem or draw a picture on

'Summer '

Send on your work to activityhub@smh.ie

Saturday 24th April

STAY ACTIVE

The Body Coach

Today's Activity

Draw with Don

Let's Draw a Fox

➡️Click here for video tutorial

HAVE FUN

Sunday 25th April

STAY ACTIVE

Sunday Morning Stretch

Adaptable for all levels

➡️Click here for a 3-minute stretching level 1 video with Special Olympics

HAVE FUN

MIND YOURSELF

Anytime 4pm - 9pm

Monday 26th April

STAY ACTIVE & MIND YOURSELF

**11AM LIVE CLASS **

Join Sinead for a Mind- Body Balance Class

Take some time to move your body and relax your mind

Meeting ID: 988 6258 9295

HAVE FUN

**12PM LIVE CLASS**

Join Jenny for an Arts & Crafts Class

✔️ Click here for Materials List

Meeting ID: 999 9366 4847

MIND YOURSELF

Anytime 4pm - 9pm

Tuesday 27th April

11am LIVE Social Active Club Weekly Catch Up

This weekly class is to bring everyone together to chat about the plan for the week and to celebrate achievements

Meeting ID: 948 4020 2035

MIND YOURSELF

Anytime 4PM-9PM

HAVE FUN

*6:30pm LIVE Active Social Club Class*

Join the Leisure Centre Team for a weekly Casual Catch Up & Fun Games

Join Zoom Meeting

Meeting ID: 927 5433 3049

or

MIND YOURSELF

Anytime 4pm - 9pm

Wednesday 28th April

STAY ACTIVE

**LIVE Dance class with Tarik 11am**

Join Tarik for a Dance Class

Meeting ID: 947 5821 7823

✔️Click here for instructions on how to use Zoom

or

Listen to Tea Dance Tunes

The National Concert Hall invite people living with dementia, their carers and families to enjoy an online concert of favourite songs and music

Free weekly session but pre-booking required directly with NCH

HAVE FUN

**12pm LIVE Cooking Class**

A weekly cooking class with a new Recipe each week !

Join the Live Class

✔️Click Here for Recipe

✔️Click Here for Shopping List

Zoom Meeting ID: 925 4341 3728

HAVE FUN

*6:30pm LIVE Active Social Club Class*

Join the Leisure Centre Team for a weekly Casual Catch Up & Fun Games

Join Zoom Meeting

Meeting ID: 927 5433 3049

or

MIND YOURSELF

Anytime 4pm - 9pm

Thursday 29th April

STAY ACTIVE

** LIVE Zumba Class 10:30AM**

Join our new zumba class with Karla as we dance and get fit together !!

Join zoom meeting

Meeting ID: 953 4711 4223

STAY ACTIVE

** LIVE Boxercise class 1pm **

Join Prem for an exercise class you can do seated or standing

Join Zoom Meeting

Zoom Meeting ID: 916 9867 6283

HAVE FUN

**LIVE 3pm LIVE Bingo with Dyfed**

You will need to download Zoom to your device

Join Zoom Meeting

Meeting ID: 993 1311 2548

or

MIND YOURSELF

Anytime 4pm - 9pm

Friday 30th April

STAY ACTIVE

**LIVE Aerobics class with Prem 11am**

Join the leisure centre staff for an exercise class you can do seated or standing

Join Zoom Meeting

Zoom Meeting ID: 988 6264 0926

or

The PPALS (People with intellectual disability as Physical Activity Leaders) leading out an accessible exercise class.

HAVE FUN

**SMH Friday Football Fan Club 12:00PM ⚽**

All Team Supporters Welcome

Join Zoom Meeting

Meeting ID: 949 5871 2746

STAY ACTIVE

**LIVE 2PM Walkability Session**

Interested in getting involved in assessing your local community for accessibility?

Join Zoom Meeting

Meeting ID: 949 5180 8379

or

HAVE FUN

Creative Corner Write a poem or draw a picture on

'Holidays '

Send on your work to activityhub@smh.ie

Saturday 1st May

STAY ACTIVE

The Body Coach

Today's Activity

Draw with Don

How to Draw a Sea Turtle

➡️Click here for video tutorial

HAVE FUN

Sunday 2nd May

STAY ACTIVE

Sunday Morning Stretch

Adaptable for all levels

➡️Click here for a 3-minute stretching level 1 video with Special Olympics

Today's Activity

Join Dublin Zoo's Discovery & Learning Department for Birdwatching Activity

➡️Watch a Video on Birdwatching

✔️Download the Birdwatching Activity Sheet

MIND YOURSELF

Anytime 4pm - 9pm

Monday 3rd May

STAY ACTIVE & MIND YOURSELF

STAY ACTIVE

MIND YOURSELF

Anytime 4pm - 9pm

Tuesday 4th May

11am LIVE Social Active Club Weekly Catch Up

This weekly class is to bring everyone together to chat about the plan for the week and to celebrate achievements

Meeting ID: 948 4020 2035

MIND YOURSELF

Anytime 4PM-9PM

HAVE FUN

*6:30pm LIVE Active Social Club Class*

Join the Leisure Centre Team for a weekly Casual Catch Up & Fun Games

Join Zoom Meeting

Meeting ID: 927 5433 3049

or

MIND YOURSELF

Anytime 4pm - 9pm

Wednesday 5th May

STAY ACTIVE

**LIVE Dance class with Tarik 11am**

Join Tarik for a Dance Class

Meeting ID: 947 5821 7823

✔️Click here for instructions on how to use Zoom

or

Listen to Tea Dance Tunes

The National Concert Hall invite people living with dementia, their carers and families to enjoy an online concert of favourite songs and music

Free weekly session but pre-booking required directly with NCH

HAVE FUN

**12pm LIVE Cooking Class**

A weekly cooking class with a new Recipe each week !

Join the Live Class

✔️Click Here for Recipe

✔️Click Here for Shopping List

Zoom Meeting ID: 925 4341 3728

HAVE FUN

*6:30pm LIVE Active Social Club Class*

Join the Leisure Centre Team for a weekly Casual Catch Up & Fun Games

Join Zoom Meeting

Meeting ID: 927 5433 3049

or

MIND YOURSELF

Anytime 4pm - 9pm

Thursday 6th May

STAY ACTIVE

** LIVE Zumba Class 10:30AM**

Join our new zumba class with Karla as we dance and get fit together !!

Join zoom meeting

Meeting ID: 953 4711 4223

STAY ACTIVE

** LIVE Boxercise class 1pm **

Join Prem for an exercise class you can do seated or standing

Join Zoom Meeting

Zoom Meeting ID: 916 9867 6283

HAVE FUN

**LIVE 3pm LIVE Bingo with Dyfed**

You will need to download Zoom to your device

Join Zoom Meeting

Meeting ID: 993 1311 2548

or

MIND YOURSELF

Anytime 4pm - 9pm

Friday 7th May

STAY ACTIVE

**LIVE Aerobics class with Prem 11am**

Join the leisure centre staff for an exercise class you can do seated or standing

Join Zoom Meeting

Zoom Meeting ID: 988 6264 0926

or

The PPALS (People with intellectual disability as Physical Activity Leaders) leading out an accessible exercise class.

HAVE FUN

**SMH Friday Football Fan Club 12:00PM ⚽**

All Team Supporters Welcome

Join Zoom Meeting

Meeting ID: 949 5871 2746

STAY ACTIVE

**LIVE 2PM Walkability Session**

Interested in getting involved in assessing your local community for accessibility?

Join Zoom Meeting

Meeting ID: 949 5180 8379

or

HAVE FUN

Creative Corner Write a poem or draw a picture on

'Friends '

Send on your work to activityhub@smh.ie

Saturday 8th May

STAY ACTIVE

The Body Coach

Today's Activity

Draw with Don

How to Draw a Common Frog

➡️Click here for video tutorial

HAVE FUN

Sunday 9th May

STAY ACTIVE

Today's Activity

Scavenger Hunt: In your garden or local park can you complete the scavenger hunt.

or

➡️Click Here for a Virtual Walk around the Streets of Dublin City

MIND YOURSELF

Anytime 4pm - 9pm