Adult Services
Adult Services Overview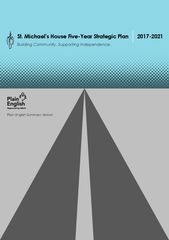 Our Adult mission and vision are the same as the overall values of St. Michael's House as an organisation. Our vision, mission and values are the guides in achieving our six strategic goals in our Strategic Plan 2017-2021.
Our vision
A world where the potential of each individual with an intellectual disability is achieved.
Our mission
Support individuals with intellectual disabilities to achieve their potential and live as independently as possible in ordinary places in the community connected to natural support networks.
Our values are to:
be person centred – to offer a range of activities to support individuals who use our service;
be professional – this means being skilled, competent and proficient;
be honest – this means following principles and being dependable in all that we do;
be ethical – this means that we operate with integrity;
have high standards of governance – to offer effective systems of management ; and
be innovative – to provide new thinking and deliver creative solutions.