Strengthening Disabilities
Strengthening Disabilities - Creating a Rights Based Model of Service in St. Michael's House
What is the Strengthening Disabilities Project?
St Michael's House are delighted to secure funding to develop our Strenghtening Disabilities Project. Aligning with our new Strategic Plan, the overall aim of the project is to create an active rights-based culture within St Michael's House (with a particular focus on the UNCRPD Articles 12 and 19) & the necessary supporting structures to implement and sustain these successfully.
The project will take approximately two years and will focus on three project strands.
Our Speech & Language Therapy team will develop and implement communication supports to service users, families and staff in order to assist the development of a rights-based model of service.
OTC - Training & Education
In collaboration with the Open Training College, our Rights Education & Training Team will develop, implement and evaluate education and training inputs into developing a rights-based culture within St. Michael's House.
Volunteer Programme
A volunteer programme will be set up and take a community network approach. By involving local people as volunteers, we will create a robust volunteer network that can support service users achieve their goals.
Click here or image below to display information poster.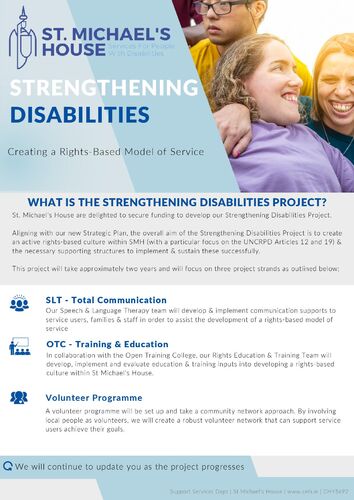 ---
Meet the Team
Project Lead: Tara Molloy, Director of Support Services
Project Co-Ordinator: Rhoda Judge
SLT Team: Jenny O'Brien (SLT Manager), Kim O'Farrell (Senior SLT) & Connie Madden (SLT)
Education & Training: Laura Dowling (Rights Education Project Manager)
Contact: strengtheningdisabilities@smh.ie
---
We will continue to update you as the project progresses.