Fundraising and Community Events
The St. Michael's House Club Draw
Did you know that you can support St. Michael's House and also be in with a chance of winning monthly cash prizes and a brand new car annually? Our member only draw has been supporting our services for over 30 years. You can become a member of this exclusive draw for only €3 per week. Members can register on an annual basis or choose a monthly direct debit option.
Your subscription will guarantee entry into monthly cash prize draws for:
1st Prize -€1,000
2nd Prize -€600
3rd Prize- €400
You will also be eligible to win a brand new car in our bonus June draw annually sponsored by Waterbabies Ireland
Sign up today by downloading the membership brochure.
Click here to see a list of our 2020 winners so far
Supporting St. Michael's House
Monies raised through the Club Draw directly support our Leisure Centre in Belcamp, Dublin 17. The Centre is Ireland's first fully wheelchair accessible leisure facility and swimming pool for people with intellectual disabilities.
An average of 860 children and adults with intellectual disabilities visit the centre each month. St. Michael's House service users and their families are given the opportunity to participate in physical activities such as swimming lessons, snorkelling, motor activities, athletics, fitness classes and social events. The Leisure Centre also acts as a social and professional hub for service user groups and committee work. It is a central active unit accessible to all disability groups.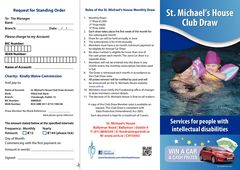 Thank you to all of the Club Draw members for your continuous support for the work that we do.
The St. Michael's House Club Draw is compliant with Data Protection (Amendment) Act 2003.
Water Babies will teach you to teach your baby to swim. You and your little one will learn water safety from day one, and you'll be amazed at the skills they'll pick up in a matter of weeks. What's more, swimming develops learning skills, boosts confidence, improves co-ordination and enhances well-being - while getting you both out and having fun!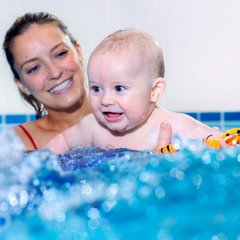 Water is a leveler, a place where everyone can flourish and have fun in a non-competitive environment. Swimming has a whole range of benefits for babies and toddlers with disabilities and learning difficulties. As well as the physical rewards swimming brings (things like the buoyancy in the water helping to reduce pressure on the bones and joints and strengthening the heart, lungs as well as the arm, leg and neck muscles), it also helps improve their confidence. By focusing on the achievements of your little ones and not their limitations, their confidence will grow and grow. Waterbabies classes are inclusive.
Aria Neary, Kilkenny was diagnosed with epilepsy in November 2018 when she was only 6 months old. Mum Denise said
"When I decided to do Water Babies I was a nervous wreck. I was terrified of her having a seizure in the water. But I got the ok from her neurology team and decided to just try and see if she liked it. Aria loves the water so much and has learned so much from water babies. It has been a tough journey for Aria but Water Babies has made her stronger, confident and a happy little girl. Thank you so much to water babies and especially her incredible teacher Sandra".
Quote from Carol McNally - Company Director

Water Babies are delighted to be a sponsor for the St. Michael's House charity prize draw. We celebrate 10 years in business this year and it seems fitting to mark it by supporting St. Michael's House as through the use of your hydrotherapy pools we have provided our classes to hundreds of local families over the years. We know the huge benefits water play and swimming has for everyone especially those with special needs so we welcome the opportunity to support St. Michael's House continue to provide these services to their families.

Read about Tom O'Leary who attends Waterbabies
BIG SPLASH OFFER !
St. Michael's House - Waterbabies 2020 Offers
Waterbabies.ie have kindly extended their support to St. Michael's House staff and service user by offering some fantastic discounts for their inclusive classes.
Sign up your child and receive the following when you show your St. Michael's House staff I.D or proof of registration.
- 10% discount for staff
- 50% discount for St. Michael's House service users
*Valid I.D must be shown - discounts on classes only, not products*
Visit www.waterbabies.ie to find your local pool and find out what's so amazing about baby swimming!
More Information
Contact: Jacqui McDonnell, Fundraising Executive
Email: fundraising@smh.ie
Tel: (01) 8840345