Fundraising and Community Events
Women's Mini Marathon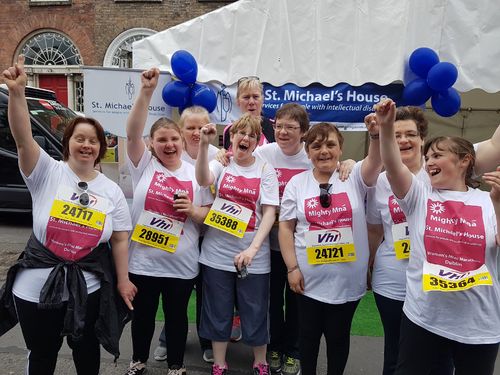 Can you join our Mighty Mná Team for this year's VHI Women's Mini Marathon - Sunday 2nd June 2019?
 We would be delighted to be your charity partner on the day and your motivation to get you across that 10k finish line! We are very grateful for every gesture of support we receive for the work that we do and to have a presence in this festival of women.
Coming Together For Charity: The VHI 10k Mini Marathon is a fantastic challenge, one that we hope all of our supporters will train for. Why not have fun while getting fit by organising your own St. Michael's House training group? Choose two evenings a week to meet your family and friends in a central location where you can run, jog, walk and talk! Every mile can bring a smile, as you catch up with each other while pounding the pavements.
Fundraising: You can sign up to receive a pack including our popular Sponsorship Card Tee-Shirt by clicking here to register online or email fundraising@smh.ie

REMEMBER - seperate registration is required by VHI - You can register via the participation form in the Evening Herald or online www.vhiminimarathon.ie
 WIN - Thanks to our friends in Lidl Ireland, we have a fantastic €100 voucher to give away for the highest funds raised by an individual and returned to us on/ before the 2nd July 2019!!
SUPPORT: The funds raised from your achievement will help us to 'Brighten Up Beechlawn' - Our Holiday Home that is used by a large number of our families and service users, some of whom would not have the means otherwise to enjoy a family holiday. Your support will help us to re-decorate and freshen up the home for the season ahead. If preferred, you can choose for your funds to support a unit of service close to your heart too!