Fundraising and Community Events
Body Mind Soul Bingo
Body Mind Soul Bingo
A Personal Wellbeing Challenge this October
As we approach October and World Mental Health Day we are asking you to support our services and your own wellbeing.
The Fundraising Team have created a Body, Mind, Soul virtual bingo card containing 20 activities for you to complete within the month of October. Each activity is designed to help support your positive mental health and wellbeing. The 20 boxes contain a link to support resources that will help you complete each task. Once you have a completed a task, you will still have access to the resource to repeat it throughout October and beyond!
You can download your free copy here or click on the image below.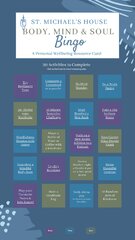 If you would like to make a donation to St. Michael's House please click here. You decide on the donation amount - donate what you can afford.
Check out our staff in Adare Hub taking on the Body Mind Soul Bingo Card personal challenge this October
Your donation can support a unit or service close to your heart - please nominate this unit/service when you are making your donation.
All non-unit focused funds will directly support our Devices Project 2021 assisting in the purchase of devices to improve communication contact during Covid-19 and beyond.