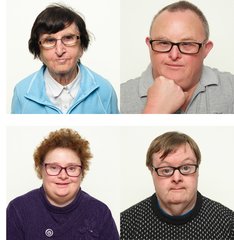 I Am
 Photographic portrait series 
Monday 18 - Sunday 24 November 2019
I Am - Photographic portrait series of adults with Intellectual Disabilities, made in association with St. Michael's House Services in Dublin. Inclusion is central to people's identity and being visible is essential to being considered and included.
County Library, Chamber Square, Tallaght
The portrait series was created by Bryan James Brophy, a Dublin-based photographer for his MFA in Photography at the Belfast College of Art, Ulster University. The  first exhibition took place in the St Michael's House Ballymun Head Office on 15th May 2019
The photographic series features portraits of adults with intellectual disabilities who avail of services provided by St. Michael's House in Dublin. The goal of Bryan's work is to create a greater visual awareness of people with intellectual disabilities in society, to advocate for greater inclusion and to challenge stereotypical attitudes.
Thank you Byran for this second oppurtuinity to showcase this fabulous images.