St. Michael's House are delighted to be partners again on National Carer's Week 10-16th June.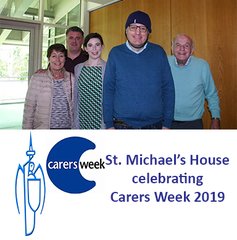 Ireland's families acknowledge the care provided by 370,000 family carers .Family carers provide care and support to a person with a disability, chronic conditions, mental health concern and/or long-term illness, in the persons own home.
The aim of  National Carer week is to:
Raise awareness of family careers in the community

Deliver events for family carers

To engage with family carers not yet availing of carer support services
St. Micheal's House are celebrating Carers by:
 a number of celebratory coffee mornings being hosted in local day and residential units for family carers and their support network.
supporting everyone to - thank - Carers this week. Our poster and checklist will support this action.
hosting a Children's Family fun day organised for a number of invited families . This is aimed at including a smaller number of invited families at a time to ensure all families are invited in turns in order to have a better experience for all.
distributing the Irish Redcross carers handbook to our different departments and Units to circulate and share to our family carers.
Dundrum Town Centre Tea Party Surpise for St. Michael's House local Unit linked Carers. This Charity Partnership is offering a little give back thank you to our Family Carers. This community support is appreciated.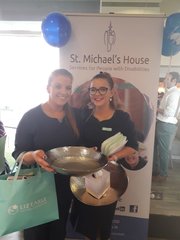 There are more activates in preparation and we will post all the information here.
 Working with our National Carers Partners
Coordinated by Care Alliance Ireland in partnership with eleven other leading Irish charities who support Family Carers: the Alzheimer Society, the Central Remedial Clinic (CRC), Family Carers Ireland, the Irish Cancer Society, the Disability Federation, MS Ireland, Acquired Brain Injury Ireland, the Irish Hospice Foundation, Special Needs Parents Association and Spina Bifida Hydrocephalus Ireland.
Click here for more figures and data on family carers in Ireland
Our National Carers Agenda for National Carers week 2019
| | |
| --- | --- |
| June 5th 2019 | Final Carers Week 2019 Planning Meeting! |
| May 15th 2019 | Soft Launch of National Carers Week 2019! |
| May 15th 2019 | Third Carers Week 2019 Planning Meeting |
|  April 16th 2019 | Second Carers Week 2019 Planning Meeting |
| March 20th 2019 | Carers Week Dates Confirmed - June 10th - 16th |
| March 13th 2019 |  First Carers Week 2019 Planning Meeting |