National Nursing Strike Action 2019
The National Industrial Action, involving 24-hour work stoppages and non-availability to work overtime, will be continuing into February as advised by the Unions Irish Nurses and Midwives Organisation (INMO) and Psychiatric Nurses Association (PNA) who represent nursing staff of all grades.
This industrial action is not a grievance with St Michael's House. The St. Michael's House internal strike committee are continuing to assess the scale of Strike risk and establish contingency plans.
The next planned strike is for Tuesday 5th February .This involves 24-hour work stoppages from;
8am Tuesday 5th February until 8am Wednesday 6th February
The strike will impact St Michael's House staffing in the following areas;
Only these Day Services listed:
Ailesbury Respite from 10am 5th February until 8am 6th February
Baldoyle Day Services
Ballymun Local Centre
Belcamp
Bon Accord
107 Cromwellsfort Road Local Centre
Chanel College
Circletime (YES Project)
Donabate 1 Respite from 10am 5th February until 8am 6th February
Donabate 2 Respite from 10am 5th February until 8am 6th February
Dublin Road LC
Enterprise Local Centre
Grove Road
Grangemore Local Centre
Le Cheile
Moyle Road
Raheny ADC
Riverside Day Service
Templeogue Enterprises
Warrenhouse Road Local Centre
St. Michael's House services will be open on Wednesday 6th February .
Further strike days could take place on 7th, 12th, 13th and 14th, 19th, 21st February.
Information pickets are due to take place at locations to be confirmed by the INMO and PNA. The INMO have clarified that passing the picket by non members and other unions is not an issue.
Print out this National Nursing Strike and St.Michael's House information.
Our National Nursing Strike Easy to Read Guide 5th February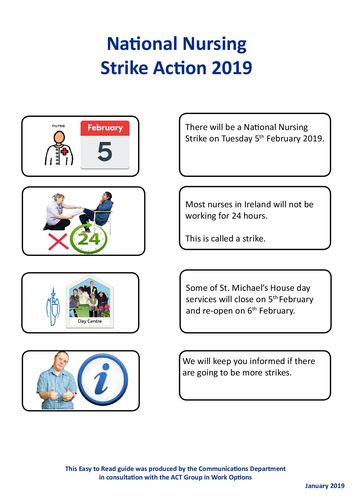 St. Michael's House will keep you informed of any contingency plans.