Children's Disability Network Teams
Our Model of Service
The Children's and Young person's services adopts a family centred approach to the provision of services in line with Progressing Disability Services. It recognises the central and essential role that the family plays in the child or young person's life.
St. Michael's House has four Children's Disability Network Teams:
Ballymun
Coolock
Coastal
Kilbarrack
Click Here for Contact Details for each Team (CDNT)
Our Team Members:
Each Children's Disability Network Team (CDNT) has an assigned Clinical Team, made up of the following disciplines;
Psychology
Speech and Language Therapy
Occupational Therapy
Social Work
Physiotherapy
Early Intervention Specialists (0 - 6 years)
Clinical Nurse Specialists
Each of these teams are supported by an administrator and managed by a Children's Disability Network Manager (CDNM).
Children attending CDNTs can also be referred to the following St. Michael's House services as required :
Paediatricians
Dietetics
CAMHs ID
Family Centred Practice
The Family Centred Practice approach acknowledges that the child and their family are at the core of any support provided by the team.
The main guiding principles for family centred practice are:
Families and family members are treated with dignity and respect.
Team supports are based on family-identified desires and priorities.
Relationships both amongst the team and with families are built on mutual trust.
Information to make informed choices is shared in a complete and unbiased manner.
Family choice and decision making occurs at all levels of intervention.
Supports are provided in a flexible, responsive, and individualised manner.
Family and services listen to the child, and account for their age, maturity, and strive for the best possible outcome
Families are fully capable of making informed choices. Parents have the ultimate responsibility for all decisions made about their children.
Services exist to support children and their families to attain the best possible outcomes.
Children, families, and services providers all benefit most when services are based on true collaborative partnerships.
Family Centred Practice is delivered through:
- Individual Family Support Plan (IFSP) : Click Here for More Information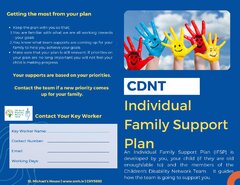 - Key Working: Key working is a way of engaging with children and families to ensure they experience services that are well coordinated, consistent, and effective, by recognising the individual needs of families. Click Here for more information.