Children's Services
What is Progressing Disability Services?
Progressing Disability Services (PDS) is a national process to reorganise children's disability services. This process changes the way young people (aged 0-18 years) and their families access and receive health services. These changes have already happened in other parts of Ireland and are about to happen in Dublin.
At the moment, HSE Disability Teams, as well as other publicly-funded disability (also called voluntary bodies) provide services to children with disabilities living in North Dublin. These services will soon combine their staff to create new teams, so that children will have equal access to supports regardless of where they live or the nature of their disability.
You can find information on the following:
Additional questions?
Email: St. Michael's House directly at progressingdisabilities@smh.ie. Your questions will be answered by a Clinical team member.
Download all St. Michael's House PDS circulated information :
Dublin North City and County School Age Disability Team (SADT)
Who are we
Our team caters for children who are 5 years to 13 years and 11 months of age and who present with complex needs arising from a disability.
The School Age Disability team aims to enhance each family's capacity to support their child's development and enable their active participation in community life.
What we do
We work together with families on developing shared goals for their child. The team supports children and families access supports and create links within their own community and school
All interventions are aimed at supporting families to help children in their home, school and community life, through an individualised plan developed between the team and the family.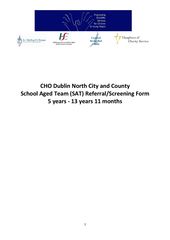 The team is made up of: Occupational Therapy, Social Work, Speech and Language Therapy, Psychology, Physiotherapy and team coordinator. It is our aim to work with families as a dynamic inter-disciplinary team to specifically address the needs of the child and family.
As a team we may offer supports in a variety of formats depending on the needs and goals identified by the family.
Interventions can include the following :
Individualised and routines based home programmes
Group therapy sessions
Parental education programmes
School programmes/input
Adapted equipment or tools
Guidance and Advise
One to one therapy if required.
Referral forms must be signed by parents/ legal guardians
Download SADT Refferal Form here.
More Information
If you require any additional information you can contact
Niamh Gilitinan - Clinical Manager Ballymun Clinic (01) 8840211