Dawn to Dusk Daily Dip 2022
Due to the phenonomal success of SMH Dawn to Dusk Daily Dip,
the Daily Dip is back for the third year in a row!
Join our team of Daily Dippers to support services for people with disabilities this Summer and benefit from the restorative powers the open water has to offer.
Can you brave the waters between dawn and dusk in one of Ireland's popular swimming locations?
Make it a quick dip or a leisurely swim - You Decide!
Sign up as an individual or as a family or group and complete a challenge that suits you this August.
Suggested Challenges:
7 Daily Dips in a Week
10 Daily Dips in a Month
As many daily dips as you are in years?
Set your own personal goal or gather some friends to share the thrill of the open water. Why not involve the junior dippers for some family fun! * Special Family Dip Rate for 2 Adults & Up to 3 Junior Dippers - €50 *
Sign up and you will receive a St. Michael's House Dawn to Dusk Daily Dip Silicone Cap to wear for your Daily Dips!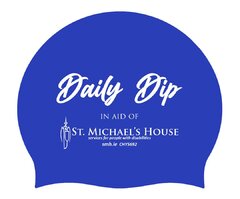 To Register
Register with the Fundraising Team today by emailing fundraising@smh.ie
Complete your goal during Summer 2022
Fundraising for our event project below or a Unit close to your heart by setting up an online fundraising page using iDonate
Click here to see some of the best swimming spots in Dublin (and for some ideas!)
Cold Water Swimming has long been associated with health benefits - there's even a word for it "Thalassotherapy"!
The open water can make your problems seem small too. It can also boost your immune system, give you a natural high, improve your circulation, burn calories and reduce stress. Click here for more details.