Fundraising and Community Events
St. Michael's House BookClubbers Club
St. Michael's House are adhering to Government and Public Health advice during COVID-19. To those who are thinking of organising an event please ensure that full social distancing guidelines are adhered to. We are here to advise you if needed on 087 1955266.
The Good Reader - BookClubbers Club
St. Michael's House are asking you to book some time in with your pals near and far to catch-up and enjoy some good reading in support of our services.
Starting this summer - form a club with your friends and meet online monthly to discuss your "book of the month"
On each meeting, each reader texts to donate €4 to our service
Your BookClub name will be added to our Book Board and your monthly read and funds donated will be added to the chart.
Each month your books and bucks will all add up to make a difference!
Your Reader BookClub Donations
Monies raised from The Good Reader - Bookclubbers Club will directly support our Assistive Technology Project. This project aims to assist and support the use of technology for our service users and their families at home with St. Michael's House virtual supports due to COVID-19.
How do you start ?
Tell your friends- neighbours and virtual- and pick a book for the month . This is your club - you decide on your own reading list!
Start your new Bookclub Chapter now - register your unique book club name here or email fundraising@smh.ie
Set up your own - whatsapp group or text group to keep in touch and encourage reading. Have fun !
Let us know - how you are getting on , we will post your news, reviews and we have more exciting plans ahead !
Throughout the year our Bookclubbers Club Page will highlight suggested readings and inspiration.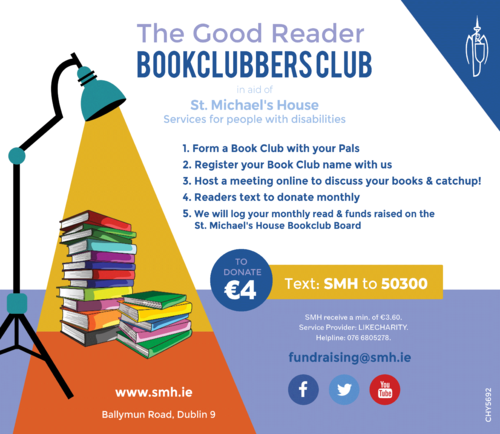 Remember: Bookclubs are for all peer groups! Why not get your children to form a club with their friends too!
Tips for Successful Book Club
1. Choose a demographic! If you are planning to read only "chicklit" don't try to make it a couples book club.
2. Try to pick books that are under 400 pages.
3. Be realistic with your schedule.
4. Incorporate food (and drinks!!!)
5. Allow for some hang-out time.
We ask every reader to :
Donate €4, Text SMH to 50300
SMH recieve a minimum of €3.60.
Service provider LIKECHARITY 0766805278