About St. Michael's House
St. Michael's House provides a comprehensive range of services and supports to men, women, and children with intellectual disabilities and their families in 170 locations in the greater Dublin Area. It supports c. 2,300 people and this has an impact on thousands of family members. St. Michael's House is a company funded by the Health Service Executive (HSE), TUSLA and the Department of Education and Skills. (Figures from 1st August 2022)
St. Michael's House supports include:
Residential supports and Independent living
Clinical supports
Day supports
Schools
Respite supports and
Vocational training services.
St. Michael's House is committed to delivering services and supports based on the needs, wishes and choices of people with an intellectual disability, based in that communities and connected to natural support networks.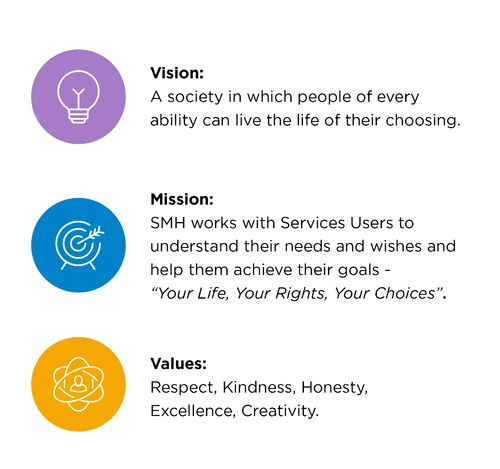 Our values are to:
Respect:

We will always remember that for service users it is 'Their Lives, Their Rights, Their Choices'

Kindness:

We will work with kindness and expect the same in return

Honesty:

We will always give each other the full and truthful picture. If we have concerns, we will express them openly. If we promise it, we deliver on it. And we listen

Excellence: We are inspired by challenges. We will find new ways of doing things. We will not give up in the face of challenges

Creativity: We will not simply accept what is. We will explore with others how things can be changed for the better. We will be open to learning from others and we will share openly our own knowledge, skills and resources
---
St. Michael's House Strategic Plan 2022 - 2026
Your Life, Your Rights, Your Choices
The foundation of our new Strategic Plan 2022-2026 is a rights based approach to service delivery for service users and planning for the duration of the lifecycle with a particular focus on key transition points. From this we have developed a service concept approach that reinforces service users at the core of all we do and recognises the key role of;
service users
their families and supporters
staff
Government
funders, and
regulators such as Health Information and Quality Authority ( HIQA )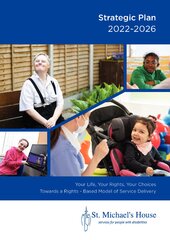 St. Michael's House has four Key Goals and have identified four strategy enablers to support the delivery of these strategic goals.
Download Plain English St. Michael's House Strategic Plan 2022 - 2026
Download Easy to Read St. Michael's House Strategic Plan 2022 - 2026
Alternatively, please contact communications@smh.ie to request a hard copy of this Strategic Plan 2022-2026