Fundraising and Community Events
Noel Hughes Golf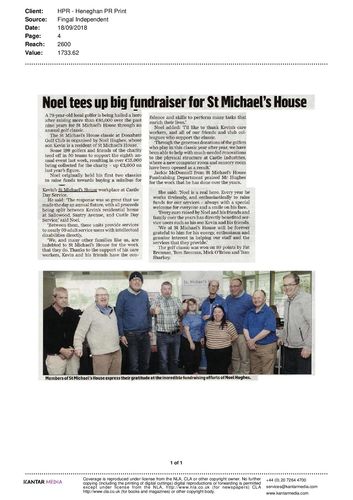 The Noel Hughes Golf Classic takes place each year in  Donabate Golf Club.
Noel Hughes son Kevin Hughes attends bot Castle and Sallowood Units. Noel has a great realtionship with all the staff team and together with his wife Pauline and son Darren , they roll out a community golf day each September.
The 10th  year of this very enjoyable event took place in Septmeber 2018 .
Previous funds raised directly supported both Castle and Sallowood units.
Castle have used previous funds from the Golf Classic to add two new training rooms and residents in Sallowood have provided educational  musician session in the  house every week for all residents to enjoy.
St. Michael's House are very grateful for Noel Hughes and his army of supporters.
Read all about it in the local papers
Dublin People
/download/pdf/smh_dublin_people_web_27_09_2018.pdf
Fingal Independent
/download/pdf/smh_fingal_independent_18_09_2018.pdf