Fundraising and Community Events
Dawn to Dusk Daily Dip
St. Michael's House are adhering to Government and Public Health advice during COVID-19. To those who are thinking of organising an event please ensure that full social distancing guidelines are adhered to. We are here to advise you if needed on 087 1955266.
Join our team of Daily Dippers to support services for people with disabilities this August and benefit from the restorative powers the open water has to offer.
Can you brave the waters between dawn and dusk in one of Ireland's popular swimming locations?
Make it a quick dip or a leisurely swim - You Decide!
Sign up as an individual or as a family or group and complete a challenge that suits you this August.
Suggested Challenges:
7 Daily Dips in a Week
10 Daily Dips in a Month
As many daily dips as you are in years?
Set your own personal goal or gather some friends to share the thrill of the open water. Why not involve the junior dippers for some family fun!
On completion you will receive a St. Michael's House Dawn to Dusk Daily Dip Silicone Cap for your achievement!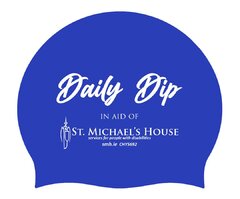 To Register
Register here for €15 (+booking fee) - family rates available
Complete your goal within the month of August
Fundraising for our event project below or a Unit close to your heart using the following platforms;
All non-unit focused funds will directly benefit St. Michael's House Assistive Technology Project 2020
Click here to see some of the best swimming spots in Dublin (and for some ideas!)
Cold Water Swimming has long been associated with health benefits - there's even a word for it "Thalassotherapy"!
The open water can make your problems seem small too. It can also boost your immune system, give you a natural high, improve your circulation, burn calories and reduce stress. Click here for more details.