Fundraising and Community Events
Bring a Book, Buy a Book 2021
St. Michael's House Bring a Book, Buy a Book 2021
The Campaign - March 2021
This March our Annual National Campaign celebrates 14 years of encouraging reading for all. Each passing year, the campaign has grown in popularity with up to 200 companies, schools and clubs hosting events around the country and an average of 30,000 book exchanges annually. Can you join us for this next chapter?
A NEW CHAPTER 2021
St. Michael's House are adhering to Government and Public Health advice during COVID-19.
In 2021 we are asking our supporters to #PassTheBook as part of our Bring a Book, Buy a Book 2021 campaign.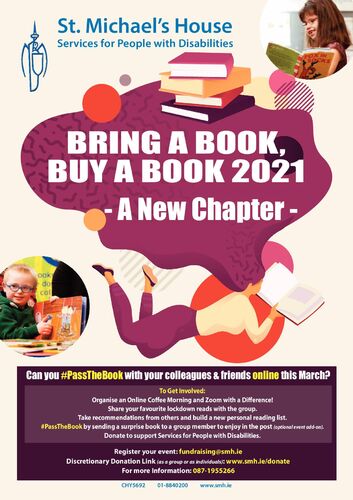 Can you #PassTheBook with your colleagues & friends ONLINE this March?
To get involved:
Organise an online Coffee Morning & Zoom with a Difference
Share your favourite lockdown reads with the group
Take recommendations from others and build a new personal reading list
#PassTheBook by posting a surprise book to another group member. (Optional event add-on): Openly choose a fellow participant during your online event and send them a book you think they might enjoy reading in the post.
Donate to support Services for People with Disabilities
Contact fundraising@smh.ie today for more information.
Supporting our Service
Register your event: Email fundraising@smh.ie
Your Funds Raised
Make a suitable discretionary donation as a group or individually after your event here or choose to set up an online fundraising platform here
Funds raised through the Bring a Book, Buy a Book campaign will support St. Michael's House Devices Project 2021. Read all about it here.
A #PassTheBook event is a welcomed wellbeing activity this World Book Day. Bring your team, colleagues or friends together and encourage some escapism during these difficult times. By supporting each other your event will be supporting services for people with disabilities also. This is an excellent Corporate Social Responsibility initiative for your company.
Click here to see our Bring a Book Buy a Book gallery.
Thank you to our reading advocate supporters;
If you can not organise an event this year you can still support the Bring a Book Buy a Book campaign by texting
Donate €4, Text SMH to 50300
SMH recieve a minimum of €3.60.
Service provider LIKECHARITY 0766805278
Our Corporate and School Book Campaign Testimonials video