St. Michael's House are delighted to launch an eBook to celebrate their annual national fundraising campaign, Bring a Book Buy a Book 2021.
This interactive children's book is full of short stories and nursery rhymes and was created by the Fundraising Department and Home Teaching Department to celebrate World Book Day 2021.
The book includes nine chapters of engaging content with our story tellers using Lamh. We hope children and parents enjoy this resource and return to the eBook time and time again.
| | |
| --- | --- |
| The eBook is available to view here or by clicking on the image. | |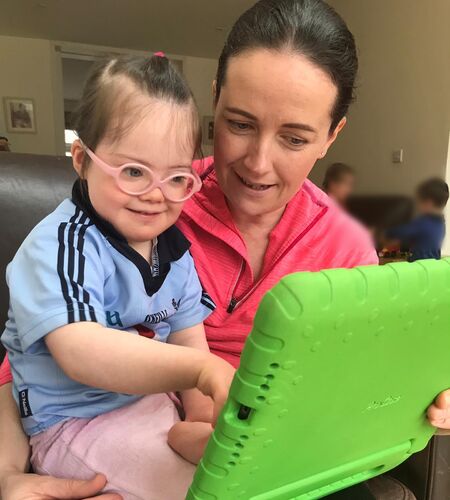 Pic (L-R) Ellen Dilworth aged 3 and mum Kate from Marino enjoying our new eBook
St. Michael's House Children's Book of Short Stories and Nursery Rhymes welcomes discretionary donations to support Bring a Book Buy a Book 2021 fundraising campaign.
You can donate here. All funds raised will directly support St. Michael's House Devices Project 2021.
Please note that all our stories and songs created by the Home Teaching Department are available on our website here or on our YouTube channel.
Content is aimed at children aged from 6 months to 6 years but can be enjoyed by all. Lámh is the manual sign system used by children and adults with intellectual disability and communication needs in Ireland. You can find out more about Lámh signs at www.lamh.org.