St. Michael's House Announces Waterbabies as our new sponsor for Club Draw 2019
St. Michaels House continues its tradition of prize offerings thanks to Water Babies
St. Michael's House, one of Ireland's largest providers of community-based services for individuals with intellectual disabilities, is delighted to announce that Water Babies has signed on as the official sponsor for the Club Draw 2019. The winner of the Club Draw 2019 was recently announced as Therese Carroll from Glasnevin. Therese, who worked in St. Michael's House for over ten years, received a brand new Citroën worth nearly €15,000.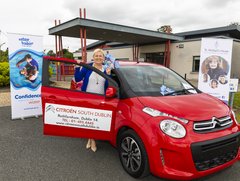 Water Babies is the world's leading baby swim school, teaching more than 50,000 babies every week through a network of family-run businesses across Ireland and the UK. With the best trained baby swimming teachers in the world, every lesson is carefully structured to nurture children's physical and emotional development, through skills and activities taught in the pool.
Carol McNally, Company Director of Water Babies Ireland said:
"We are delighted to be a sponsor for the St. Michael's House charity prize draw. We celebrate 10 years in business this year and it seems fitting to mark it by supporting St. Michael's House. Through the use of our hydrotherapy pools we have provided our classes to hundreds of local families over the years. We know the huge benefits water play and swimming has for everyone especially those with special needs so we welcome the opportunity to support St. Michael's House continue to provide these services to their families."
The Club Draw has been supporting St. Michael's House services for over thirty years. The funds raised directly support the purpose built Leisure Centre in Belcamp, Dublin which contains Ireland's first wheelchair accessible pool for the disabled. An average of 720 children and adults with intellectual disabilities attend the Leisure Centre each month.
Following the announcement Barbara Wiseman, Head of Communications and Fundraising for St. Michael's House said: 
"The money raised from club draws is a vital source of funding for the House and continues to support the vital work done here throughout the year. We offer our sincere gratitude to Water Babies both for their generosity in sponsorship of our own and other worthy causes but also for the ongoing work they do to enrich the lives of our service users through their classes."
A weekly donation of €3 secures entry into the monthly draw for cash prizes of €1,000, €600 and €400 and the annual car prize draw. Entry can be completed here or by phone (01) 8840345.
You can read the full press release here
View photographs from our Waterbabies Partnership launch here