Changing Gears - Lets Talk About Getting Older
Changing Gears - Lets Talk About Getting Older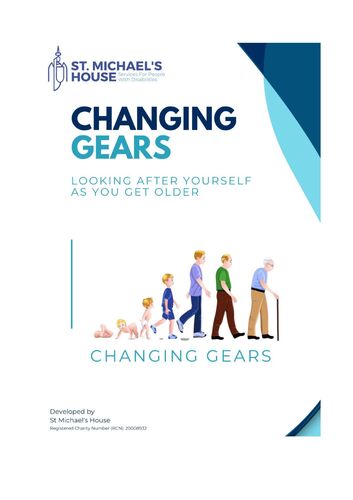 Changing Gears is an on-line educational resource about what happens when you are getting older. This resource provides information on how getting older impacts on different parts of your body. Then it gives tips on what you can do to adjust to these changes that can happen in your body, your function, your environment and your social circumstances.
The resource is intended for the use of carers, family members, health & social care professionals and St. Michael's House service users. The resource can be used to prompt conversation and learning with people who we are supporting as and when issues arise. Elements from this resource can be used to help set and review My Life Goals, Cosan Goals and be incorporated in Support Plans.
This resource has been developed by a St Michael's House Multi-Disciplinary Team consisting of the following disciplines: dietician, integrated care nurse, nurses, occupational therapist, physiotherapist, psychologist, social care worker, social worker, doctor and speech & language therapist.
Click here to download our Changing Gears Info booklet
Click here to download our Changing Gears Flyer
Click here to download an Easy Read Guide to Falls
Click here to download our SMH Footwear Advice Sheet