St. Michael's House are delighted to celebrate to Carers Week 2023 and recognise the great work of carers across our organisation and nationally.
Carers Week 2023 - #MakingCarersVisible - have three main objectives
To raise awareness of family carers in our community.
To deliver both online and Face-to-Face events for family carers throughout the country.
To engage with family carers not yet availing of carer support services.
Click here for more information and useful resources to support your role as a carer in Ireland.
---
St. Michael's House have created a virtual Self-Care Resource Card designed to promote personal wellbeing for carers.
The card includes seven activities including a Gratitude Log. You can download this resource card here or click on the image below.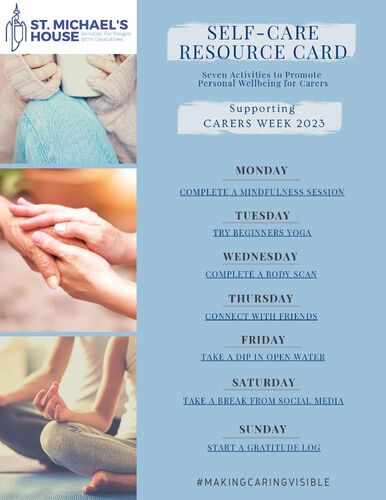 How to write a Gratitude Log
"Every experience, no matter how bad it seems, holds within it a blessing of some kind. The goal is to find it."
Write down five things you are grateful for today.
For more information on events in your area for Carers Week 2023 - click here