Can you join our Mighty Mná Team for this year's VHI Women's Mini Marathon Sunday 4th June 2023?
St. Michael's House would be delighted to be your charity partner on the day and your motivation to get you across that 10k finish line!
We are very grateful for every gesture of support we receive for the work that we do and to have a presence in this festival of women.
Fundraising: You can sign up to raise funds for a St. Michael's House centre/service of your choice by clicking here to register online, clicking on the image below and emailing fundraising@smh.ie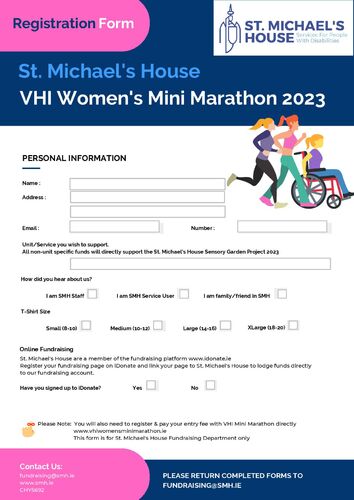 Mini Marathon Project 2023: Non-Unit focussed funds raised will help support St. Michael's House Sensory Garden Project. This project aims to establish a large sensory garden in Ballymun HQ that will be used by all our service users and families while visiting our Ballymun campus. Sensory gardens are proven to improve physical fitness, health, mood and cognition and help people develop gross and fine motor skills. Time outdoors, breathing fresh air, and being exposed to sunlight are extremely beneficial to an individuals overall physical health.
Contact Fundraising today at fundraising@smh.ie