St. Michael's House were delighted to host its Annual Christmas Matinee event with charity partner Fujitsu this week. This year marks the 37th year of the annual event, which usually takes place in the Savoy cinema, and services users from 50 units of service across Dublin joined in on the virtual festive fun.
The Annual Christmas Matinee is the largest social event for service users, and this is the second year that the event has taken place online in response to Covid-19 guidelines. To kick off the event, service users Courage and John shared some Christmas LÁMH signs with all the attendees to get into the festive mood. Then service user Lisa Rafter hosted a Christmas movie themed quiz and staff from Fujitsu showcased a new Christmas story video that they created virtually with staff across their organisation, entitled a 'The Night Before Christmas'. Vouchers were sent to all units in advance of the Christmas Movie Afternoon sponsored by Fujitsu, so that service users could buy some treats for the day.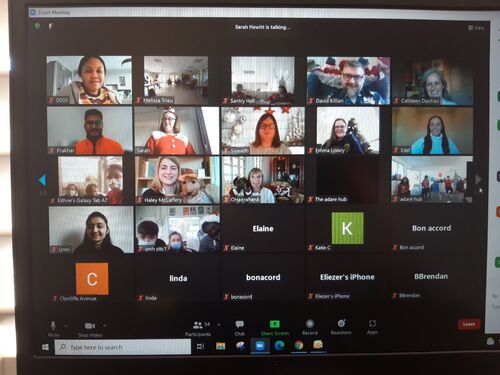 Jacqui McDonnell, Acting Head of Fundraising and Communications at St Michael's House said:
"We were delighted to be able to bring our Annual Christmas Matinee online again this year with the support of the St. Michael's House Activity Hub. The event is a long-standing calendar favourite and it is great to keep the tradition alive and bring service users together. Thanks to our friends in Fujitsu we have been able to keep the camera's rolling! Fujitsu have been the main sponsor of this event for ten years and we are very grateful for their continued support during these difficult times."
Tony O'Malley, CEO of Fujitsu Ireland, said:
"We are delighted to support St. Michael's House again this year with its Christmas Matinee. It's an event Fujitsu looks forward to every year as it gives us the opportunity to reconnect with the staff and service users and kick off the Christmas festivities together. It's a great pleasure to contribute to such a worthwhile cause such as St Michael's House."
The Christmas event has been sponsored by Fujitsu for the past ten years.
Many thanks to Lisa, Courage, John, the St. Michael's House Activity Hub and Fujitsu. We hope everyone had a wonderful time.
Click here to see some of the fesitivities.