St. Michael's House Football Fan Club got a special surprise when they were recently joined by Republic of Ireland Manager Stephen Kenny for an exclusive Zoom Q&A on the St. Michael's House Activity Hub to talk about all things football. Stephen Kenny received a very warm welcome from St. Michael's House Football Fan Club who were delighted with the opportunity to ask Stephen some questions and to chat about all things Irish football.
Stephen Kenny delighted all the Football Fan Club members when he personally invited them to attend the upcoming international friendly between Republic of Ireland vs Qatar on Tuesday 12th October.
The Football Fan Club was established in 2020 as part of the Activity Hub. The Hub hosts educational and social events that help keep service users connected during these distanced times. These football fanatics come together weekly to help keep and enjoy their shared interest.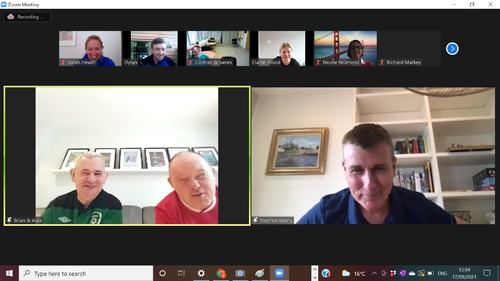 The special Q&A was brought together by St. Michael's House charity partner Aircoach, who is also the Official Transport Provider to the Republic of Ireland's senior men and women's teams. See all the photos here.
Watch the full Q&A here.
Speaking about the event, Dervla McKay, Managing Director of Aircoach said,
"When we heard about St. Michael's House Football Fan Club, we knew we could do something special for their members and with the support of the FAI, we were delighted to help create this exciting Q&A and the opportunity for members to chat with Stephen Kenny."
Following the event, Jacqui McDonnell, Acting Head of Communications & Fundraising at St. Michael's House said,
"We are extremely thankful to Aircoach, the FAI and of course, Stephen Kenny for making this event possible for our Football Fan Club. Our members were thrilled with the opportunity to ask Stephen their questions and to chat with him about his journey to football and now as Manager of the Republic of Ireland. Stephen also very kindly invited our members to Ireland's next home fixture in the Aviva Stadium which there is huge excitement about. They will be shouting even louder for Ireland on October 12th!"