Join us in congratulating Lisa Marie who is taking part in St. Michael's House annual Dawn to Dusk Daily Dip this August.
Lisa (pictured above with journalist Brendan O'Connor) is 'daily dipping' three times a week to raise funds for her residential unit in Grattan Lodge.
Click here to view photos of all St. Michael's House Daily Dippers.
You can also donate directly and support Lisa Marie's fundraising for Grattan Lodge by clicking here. Lisa Marie, the staff and residents are very grateful for all your support.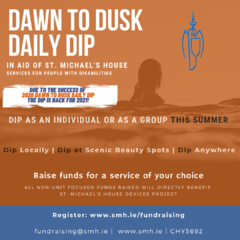 Can you Daily Dip in aid of St. Michael's House this August? Click here to find out more or contact one of the Fundraising Team today.
Email fundraising@smh.ie and one of the Team will be delighted to support you.