Congratulations to our PPal Leaders - Una Hennessy , Paula Carroll and Lyn Conroy who were participants in the Inclusive Physical Education (InPhysEd) Summer School 7th-19th July in Munich, Germany.
The Physical Activity Leader Project (P-PALs ) is a programme encouraging older adults over the age of 40 years with ID to take a leadership role in promoting physical activity among their peers. The programme builds on an existing one for older adults run by Age and Opportunity, called 'Go for Life.' The P- PALs project team have adapted the programme for older persons with ID.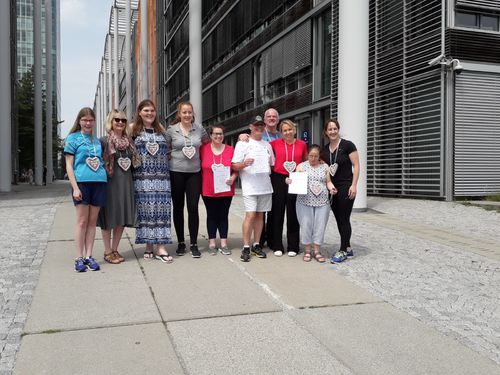 The training takes place over eight weeks in Trinity College Dublin. The overall aim of the programme is that it will result in learning new skills and having increased confidence to become a leader in physical activity as well as increased self esteem. It is hoped that participants will have access to greater social networks, new friendships, and increased engagement in the local community.
In addition, Trinity College Dublin in collaboration with the Technical University of Munich ran a successful Inclusive Physical Education (InPhysEd) Summer School this July. There were representatives from St. Michael's House services including our three PPal Leaders. Una, Paula and Lyn  which already completed the Trinity College eight week course and took the Summer School Opportunity too ! They were learners and leaders in Munich.
It is an opportunity for participants involved to learn new skills and to think creatively with their European peers. Most importantly it allows for reciprocal learning for all taking part and in the process building on an individual's network of support.