On Monday 7th January, St. Michael's House held its first research forum of 2019 with three fantastic presentation from St. Michael's House staff members.  All three presentations had a strong focus on bridging the gap between research and practice to ensure that the information we gain from research has practical implications for the service users of St. Michael's House.
Head of Unit, Joan Gilvarry presented research that she completed as part of her Masters degree, which examined the perspectives of nurses using the HSE Nursing and Midwifery Metrics in an ID (Intellectual Disability) setting. The study revealed great benefits to using this tool within St. Michael's House (SMH) such as ensuring continuously high quality of care and allowing nurses to quantify good practice, which can be a significant challenge in ID settings.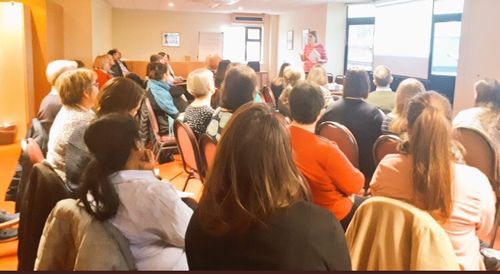 Person Centered Planning Co-Ordinator Roisín O'Neill presented research she had conducted during her Honours Degree in Social Care. Entitled 'Putting the person into personal plans', the study examined Regulation 5 of the Health Act (2007) and highlighted the benefits and challenges associated with this particular aspect of person centred planning. One key finding of this study was that more emphasis should be placed on what is important to individuals, such as their interests and talents, as well as what is important for them on a practical level.
Senior Speech and Language Therapist Mary Sloan and University College Dublin (UCD) research student Catherine Molony presented their joint research, which they carried out as part of the St. Michael's House/ UCD Scholarship programme while Catherine was a student of the Masters of Psychological Science in UCD in 2017/18.
The study explored the process of goal setting using person centred planning for individuals with complex communication and support needs, including an inconsistent yes/ no response. This presentation sparked interesting conversation around how to best support these individuals in living happy, fulfilled lives.
There is a second Research Forum 2019 to be announced shortly.
Final presentation today from @StMichaelsHouse staff member Mary Sloan and @UCDPsychology #MPsychSc graduate Catherine Molony, reports on goal setting and person-centred planning for people with complex needs #SMHResearchForum pic.twitter.com/UDCzZG7VML

— Suzie Guerin (@suzie_guerin) January 7, 2019