FitCert is based in Parnell's GAA Club is a fitness gym that run a wide range of Fitness Courses for everyone, and focus on inclusion.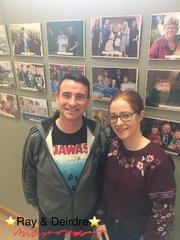 FitCert has been working with service users from St. Michael's House aiming to teach safe and independent training. In attendance on the night were St. Michael's House staff members Ray Bardin and Deirdre Teague from Green Street Hub and service users Lynn Conroy and Joseph Emmet form Work Options.
St. Michael's House began working with FitCert when Ray expressed his frustration of service users using gym facilities unsupported with very little knowledge or guidance.
Ray linked in FIT CERT and put forward the idea of student personal trainers working with service users as part of their module. FitCert was happy to introduce this idea.
Lynn and Joe are involved in the FitCert programme. They both felt nervous at the beginning. Joe aimed to lose weight but lacked the confidence to do so. Joe expressed how working with the 1:1 trainer helped him grow in confidence and gave him the knowledge to train independently.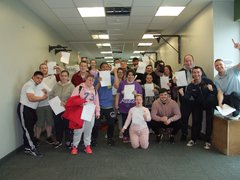 Lynns programme helped her grow in confidence and now works with a personal trainer once a week as a result of being involved in this course.
Lynn and Joe are only two of many service users who have been involved in this exciting programme.
Do you know an adult to get involved in this exciting programme going forward in the new year?
Contact Ray or Deidre in St.Michael's House Green Street Hub - 01-8728700
We would like to say a huge thank you FitCert
Thank you to staff members  Deirdre and Ray for making it all possible.
 Visit FitCert Facebook Page