DCU and St. Michael's House launch in partnership  DCU 'Ability'
€534,878 was awarded to St. Michael's House in partnership with DCU (Dublin City University)  as part of the Governments 'Ability ' programme.The Government Ability Programme will provide supports to over 2,600 young people with disabilities aged between15 to 29 years old.
The DCU Ability programme in partnership with St. Michael's House  launched in DCU on International Day of Persons with Disabilities on December 3rd 2018.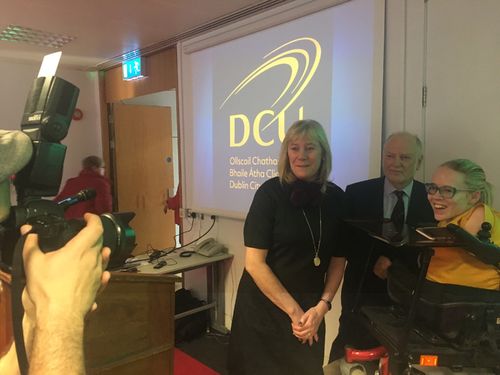 Finian McGrath TD, Minister of State for Disability Issues launched 'Ability' with special guest Joanne O'Riordan, disability rights campaigner and journalist. Professor Brian MacCraith, President of DCU and Martin Lyes, Director, St Michael's House also spoke at the launch.
A great community partnership.
 

 

 

 

 

'St.Michael's House is excited to be involved in this innovative project, which will open up new pathways into employment for our service users and build on our commitment to helping them to live more independent lives'

Martin Lyes, St. Michael's House
The courses will promote the employability of 100 young people with disabilities by supporting them to gain the skills, competencies and experience  needed to be career-ready. These skills  are essential to reduce the barriers to employment. The first intake onto this course is January 2019.
Adults will be offered opportunities to engage in a University based project that focuses on person-centred supports. Students will be able to progress at their individual pace and empower their own career ambitions. These supports  build partnerships that will address more long term the barriers that many young people face in getting employment. By harnessing the whole of DCU facilities and expertise and building a strong partnership with St. Michael's House, the project will create a sustainable model of best practice.
Overall this project will also build capacity for DCU as a large multi-campus University to create a long term sustainable programme that has the ability to be mainstreamed within the University.
More information on the course and how to apply are on the DCU Ability website. www.dcu.ie/ability
Download DCU Launch Flyer  December 3rd .
Download DCU  Poster  December 3rd.
The best partners anyone could wish for. Thanks for all https://t.co/N3IQVPtdYp

— ronaldo munck (@ronaldomunck) December 4, 2018
Fabulous to be involved in the DCU Ability programme promoting the employability of young people with a disability. A partnership between @DublinCityUni and @StMichaelsHouse
Launched this afternoon at DCU!pic.twitter.com/1upjCtmKu4 pic.twitter.com/ki6mpiZ2Ln

— Neil Kenny (@NeilpKenny) December 3, 2018
Delighted to attend the launch of DCU Ability this afternoon, a new programme promoting the employability of young disabled people by gaining skills and experience! A partnership between @DublinCityUni and @StMichaelsHouse pic.twitter.com/SOk3N2Zgv4

— AsIAm.ie (@AsIAmIreland) December 3, 2018