GDPR
General Data Protection Directive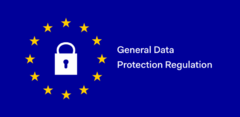 Symbol used by St. Michael's House in respect of GDPR LawGeneral Data Protection Regulation (GDPR) signals a new generation of data protection laws which will impact all businesses and charities affecting how they collect, store and use personal data.
St. Michael's House management team are working to ensure service users, staff and family information is managed correctly. The GDPR offers an opportunity to St. Michael's House to improve our data systems to continual provide a integrated updated information system to all.
GDPR Guidelines
As part of good governance, St. Michael's House adhere to the following guidelines.