Children's Services
School Age Services
St. Michael's House school age clinical services are co-ordinated by a schools team co-ordinator.
Each school age team has input from the following clinical disciplines:
Psychology
Social Work
Occupational Therapy
Speech & Language
Physiotherapy
Psychiatry
Medical
Dietetics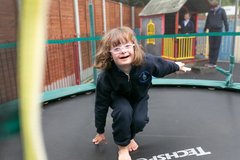 In order to receive clinical input a child must be referred to the clinical team each time a specific need arises. Parents and/or schools can make a referral to the clinical team. This is done by completing a clinical team referral form that includes consent from the child's parent or carers.
The team adopts a tiered approach when offering clinical inputs, i.e. inputs are provided at different levels depending on the needs of the individual child.
Clinical inputs include:
Consultation
Training - child, parent and school
Whole School Approach
Family Supports
Individual Supports
Depending on the referral need there may be input from one or more clinicians.
More Information
If you require any additional information you can contact the relevant Early Services Team Leader
Niamh Gilitinan - Clinical Manager Ballymun Clinic (01) 8840200