Residential Services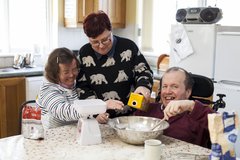 St.Michael's House and Coronavirus/Covid-19. Read our Information
St. Michael's House offers a range of residential services, which:
are community-based
reflect the needs and preferences of individual service users
are designed so that they are accessible
aim to maximise independence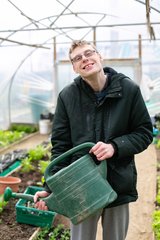 Based on these values, we have developed different models of accommodation, ranging from high support houses to independent apartments. We work with Health Information Quality Authority (HIQA). HIQA is an independent authority that exists to improve health and social care services for the people of Ireland. We provide homes for 453 service users in over 75 locations.
St. Michael's House further developed  Person-centredness which is a set of beliefs, attitudes and expectations about the right and capacity of a person with a disability to live their life in accordance with their aspirations, needs and abilities.
A person-centred approach to service provision is one where services are planned and delivered with the active involvement of people who use services. Read more on  Person Centred Planning ( PCP ) .
  Models of accommadation  are;
Community Houses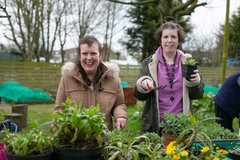 St. Michael's House residential services are provided in the community, close to amenities so that residents can become part of the local community and while the home provides the basic security and comfort that all of us would value, there is a strong emphasis on supporting residents engage with the local communities and the use community services. Each house is run independently, reflecting the likes and needs of its residents.
Houses are generally home to a maximum of six residents, each person follows their own daily routine of going to work, their day service and social activities. Families and friends are a very important part of the social fabric of the house and continue to be fully involved.
More Information
Contact Ballymun Head Office Reception for Residential contact Information.
Cara Centre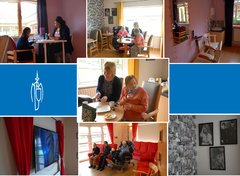 The Cara team provides specialised palliative care for people with an intellectual disability, dementia and/or imminent end of life care in the centre in Belcamp Lane , Coolock.
Each person receives person-centred care based on his or her individual needs. The Cara team aims to treat the 'whole person', which includes the physical, psychosocial, psychological and spiritual needs while progressing through the end of life process.
People with dementia will be supported to engage in all aspects of their own health and personal care. This will be cognisant of the level of their cognitive functioning and will include both family and staff to be respectful of the rights of person with dementia for expressed and unexpressed direct care interactions. Privacy, dignity and well-being are the measurements which will support all aspects of the culture of care in Cara.
Cara aims to provide a peaceful, relaxing, comfortable, and dignified environment to support end of life care. Families and friends are central in supporting the residents in the Cara unit.
Outreach support from Cara's multidisciplinary team is also part of the service. Advice and support is provided to staff in community residential houses, St. Michael's House day services and family care givers at home. The Cara outreach support team ethos is to support service users to age in place.
Host Families - Home Sharing
Home Sharing strives to empower people with intellectual disability to have dignifying relationships and to be included meaningfully in the life of their communities, whilst enjoying a short break or full time support.
A "Home Sharing Family" refers to any household providing primarily short breaks or in some cases, full time support to a person with intellectual disability in their own (Home Sharing family's) home. In order to bring a consistent approach to the service from a national perspective, Home Sharing as a model of support is subdivided into three categories namely
Independent Living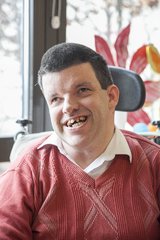 St. Michael's House supports a number of people to live independently in their own homes. Some people have remained living in their family home while others rent from St. Michael's House or other Approved Social Housing providers.
The Community Support team provide support and access to training for each person, enabling them to live a fulfilling and independent life. Each person is encouraged to use their natural support networks and actively engage in their community. Each person has a designated key worker, who meets with them on a regular basis. The supports offered are varied to each individual's needs and wishes. They range from practical everyday supports e.g. money management, managing your home to promoting and supporting positive physical and mental wellbeing, accessing education, employment and welfare entitlements.