St. Michael's House is one of 12 not for profit partners who are celebrating National Carers week on 10-16th June 2019. We are launching our National Carers week programme to the Carers of St. Michael's House today on the UN #International Day of Families - May 15th
Ireland's families acknowledge the care provided by 370,000 family carers.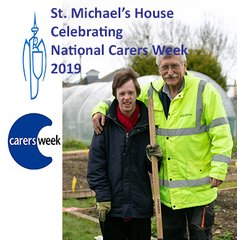 Recent independent data confirmed that 10% of the adult population are providing unpaid care to someone – due to old age, illness or disability. This means that approximately 370,000 people in Ireland are family carers.
Co-ordinator of the week, Mr. Kevin Deegan, of Care Alliance Ireland said;
"With less than four weeks to go to the week, we have already engaged with thousands of family carers via social media and look forward to the exciting range of events being planned by our partners across the country for Ireland's 370,000 family carers."
Family carers provide care and support to a person with a disability, chronic conditions, mental health concern and/or long-term illness, in the persons own home. National Carers Week, now in its thirteenth year, is coordinated by Care Alliance Ireland in partnership with eleven other leading Irish charities who support Family Carers: the Alzheimer Society, the Central Remedial Clinic (CRC), Family Carers Ireland, the Irish Cancer Society, the Disability Federation, MS Ireland, Acquired Brain Injury Ireland, the Irish Hospice Foundation, St. Michaels House, Special Needs Parents Association and Spina Bifida Hydrocephalus Ireland.
For more figures and data on family carers in Ireland see Carers Alliance National information