Fundraising and Community Events
Women's Mini Marathon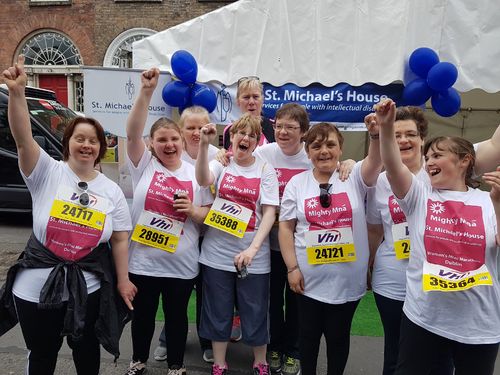 St. Michael's House Womens Mini Marathon
We love seeing your mother, sisters and friends being part of our Mighty Mná Ladies Mini Marathon Team each year. There were many ladies who use our services out in force this year. They were supported by our sisterhood staff and also some staff with the odd dress or two!.
Coming Together For Charity
The VHI 10k Mini Marathon is a fantastic challenge.  It normally takes  place on June Bank Holiday weekend Sunday. There are over 40,000 women  travel to Dublin to participate in this event.
One that we hope all of our supporters will train for.
Have fun while getting fit by organising your own St. Michael's House training group. Choose two evenings a week to meet your family and friends in a central location where you can RUN, JOG or WALK & TALK! Every mile can bring a smile, as you catch up with each other while pounding the pavements.
Funding
Funds raised can support a St. Michael's House unit directly or can go to support a chosen project. The project  for 2017 and 2018 was in support of St. Michael's House Autism services .
We are delighted to be your charity partner on the day and your motivation to get across that 10k finish line! We are very grateful for every gesture of support we receive for the work that we do and to have a presence in this festival of women.
Each year , you can sign up to receive a starter pack by
Download and complete and return the form to us by post
Register online direct to our offices
Call the fundraising office on 01 8840345.
REMEMBER - separate registration is required by VHI - You can register via the participation form in the Evening Herald or online www.vhiminimarathon.ie.