Fundraising and Community Events
New to You Fashion Show
New to You 2018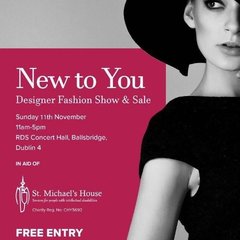 Our New to You Fashion Sale 2018 is now complete. It took place on November 11th in the RDS. It was a great success. Monies are close to €50,000!.
We are very grateful to the committee organisers lead by  Niamh Hanratty and her deadicated committed team.
Sincere thank you to all the fabulous models on day who paraded the clothes for auction with style and ease. The Fashion shows on the day were hosted by the wonderful well- known Stylist Cathy O'Conner. An amazing stylist and auctionneer who raised great funds with fun for the recycled clothes. Thank you to our models from St. Michael' House services and from the Committee.
About New to You Fashion Sale
New To You Fashion Show has become a highly anticipated annual event in aid of St. Michael's House.
The popular fashion sale began in 2012, when a team of fantastic fashion-conscious ladies. Recognising the need for funds in St. Michael's House and for affordable fashion by many women, the clever fashionistas planned a New to You fashion event. The teams network donate "champagne attire to sell on at lemonade prices!"
The idea proved to be a welcomed one and the event raised an overwhelming €6,304.00. The event has grown both in popularity and success. The team have raised an amazing €45,000 in 2017.
The funds raised supports
All of the funds 2012-2014, have directly benefited St. Michael's House Baldoyle Services at the request of the team. Funds have aided the development of new sensory rooms for our Baldoyle Special National School and Adult Day Services. In 2015, funds from the event purchased a much needed purposely adapted bus for our service.
In 2016 and 2017, funds directly supported St. Michael's House, Baldoyle Day Service. Proceeds will enable the development of purposely adapted bathroom facilities that will benefit eighteen service users with profound intellectual disabilities. This renovation will enhance comfort and enjoyment for all service users during their daily activities and promote dignity in care.
The 2018 funds will support a project  in the Baldoyle services.
St. Michael's House wish to thank the Nolan Family and the New To You team of volunteers for their continued support for services for people with intellectual disabilities.
See the headline success of the 2018 event.