Fundraising and Community Events
Carers Week 2021
St. Michael's House are delighted to be part of the Care Alliance and to celebrate Carers across Ireland
Liz Reynolds, CEO of St. Michael's House, acknowledges the added pressures on St. Michael's House carers, particularly during Covid-19.
St. Michael's House are supporting Carers and are delighted to launch two new webinars;
St. Michael's House have created a virtual Self-Care Resource Card designed to promote personal wellbeing for carers.
The card includes seven activities including a Gratitude Log. You can download this resource card here or click on the image below.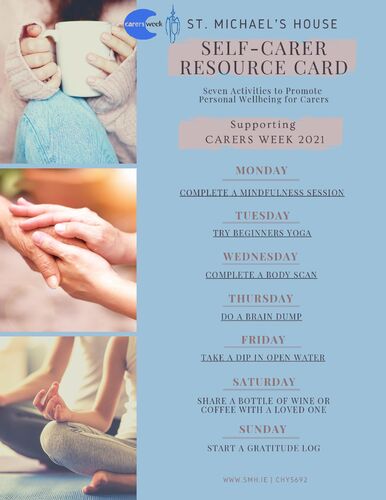 All in St. Michael's House acknowledges the hard work of Carers this week and all year around and have created a suite of Covid-19 resources to support families.