Training and Development
Training and Development
St. Michael's House staff training is essential to delivering a good quality safe service to children and adults who use our service.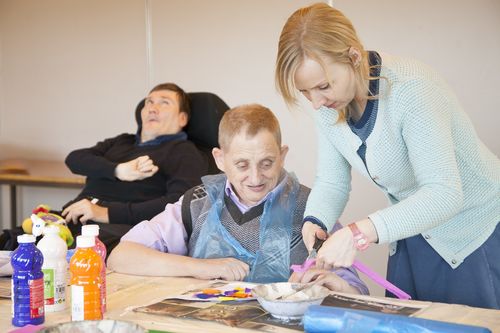 Our training and up-skilling covers all areas outlined in the organisations Minimum Required Training Standards for Staff document and includes;
Manual Handling
Occupational & Emergency First Aid
Fire Safety
Safe Administration of Medication
Safeguarding of Vulnerable Persons Awareness Training
Food Safety
Hand Hygiene
CALM training for staff working with children.
There are over 260 Nurses employed in St. Michael's House in various skilled roles throughout the organisation. Through the NMPDU (Nursing Midwifery Planning and Development Unit) and NLIC (National Leadership and Innovation Centre for Nursing and Midwifery), our nurse teams can avail of a number of programmes - these include management and leadership, quality programmes and nursing conferences.
Our training highlights in 2017:
68 Staff completed professional qualifications (Levels 6 to 9) on the National Framework of Qualifications (NFQ), for the academic year 2017-2018.
4 Newly designed retirement planning workshops were rolled out to staff in partnership with New Ireland Assurance to support staff to prepare for retirement.
149 Persons in Charge and Clinical Staff completed training in Managing Compliments and Complaints.
451 Staff across the organisation attended Resilience Workshops to help develop and improve the skills of resilience.
24 Units received "Dignity at Work" Workshops to increase knowledge and awareness around the Dignity at Work Policy and the areas of Bullying, Harassment and Sexual Harassment.